---
Next
Page
---
Previous Page
---
Next Chapter
---
Previous
Chapter
---
---
Home
---

The apparitions of
GARABANDAL
BY
F. SANCHEZ-VENTURA Y PASCUAL
---
Chapter Six
THE PRODIGIES CONTINUE
Page 72
---
That day, Mary Loly lost a rosary. Unable to find it, she asked the Vision its whereabouts. The Virgin told her the exact spot where she would discover it. It was not the only time this happened. On several occasions, what with ecstatic falls and walks, medals and other pious objects were lost amidst the piles of other objects given to the children. They were retrieved by asking the Virgin for a detailed description of their whereabouts.
The ecstatic walks took different forms. At times, the four girls moved forwards together at normal speed. On other occasions, they started together only to separate later, each taking a different street and then joyously meeting up at another spot. They frequently advanced at such a speed that it became very difficult to keep up with them. At times, they advanced on their knees and, once, even sitting down. To quote the authority, Fr. Royo Marin: "There have been saints who, during their ecstasy, used to speak with the object of their contemplative Vision and even advance in an ecstatic walk. In this respect, the cases of St. Catherine of Siena and St. Magdalena de Paccis are well-known examples.*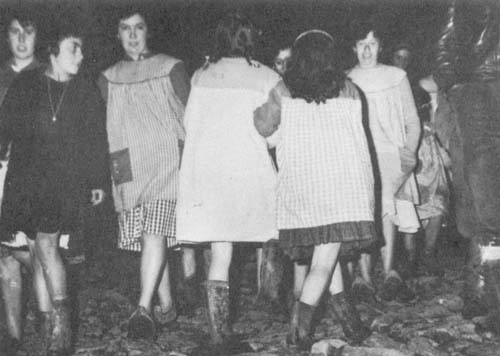 The children are here seen walking backwards in
ecstasy; their eyes remain fixed on their vision.