The apparitions of
GARABANDAL
BY
F. SANCHEZ-VENTURA Y PASCUAL
---
Chapter Six
THE PRODIGIES CONTINUE
Page 73
---
Fr. Luis' Visit
38.—August 8th, 1961, is one of the most memorable dates in the story of Garabandal.
Twenty people set out from Aguilar del Campo at six o'clock in the morning, in five cars. Among them was Fr. Luis Maria Andreu of the Society of Jesus.
They reached Garabandal that morning, and the parish priest in Cosio handed over to Fr. Luis the key of the village church, for he himself had to go to Torrelavega that day. Conchita, Jacinta and Mary Loly received Holy Communion and, after Mass, they said that Our Lady had announced a vision for 2 p.m. in the church.
Fr. Luis Andreu always celebrated Mass with great devotion, but that day even more so, as testified by members of the congregation. At first, they put it down to the presence of the visionaries
.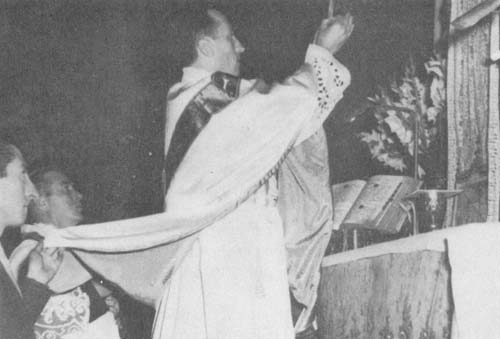 Fr. Luis celebrating his first Msaa.