The apparitions of
GARABANDAL
BY
F. SANCHEZ-VENTURA Y PASCUAL
---
Chapter Five
FROM JULY 30th TO AUGUST 3rd
Page 65
---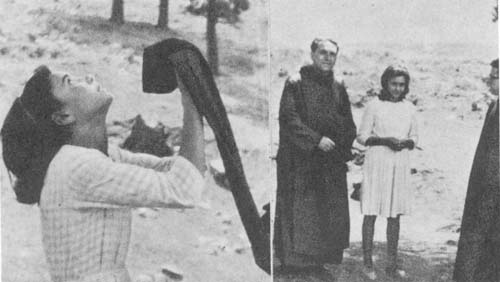 Conchita in ecstasy raises towards the Vision the
scapular of one of the two Brothers of St. John of God,
between whom she is seen standing after the ecstasy.
31.—On the 30th and 31st of July, they also had several visions. On the 30th, they insistently begged for proof so that everyone might believe.
"Let it happen at night, in broad daylight." When they said this, it was dark, and their confusion is hardly surprising, for they themselves were bathed in the light of the Vision.
"The Virgin looks very grave when we ask her for a miracle."
Mary Loly had a vision at her grandmother's. "Why have you come to me here, where nobody can see?" she queried. In their desire to convince people of the reality of their visions, they preferred the rapture to overtake them out-of-doors for everyone to see, and not just for themselves in private.
It was on the 31st that people were amazed to see the visionaries walking along on their knees for the first time. They felt as though the Virgin were receding from them, and they instinctively closed the distance, without getting to their feet.
That day, they also recited the rosary in ecstasy without counting on their fingers. They did not make any mistakes in the number of