The apparitions of
GARABANDAL
BY
F. SANCHEZ-VENTURA Y PASCUAL
---
Chapter Six
THE PRODIGIES CONTINUE
Page 69
---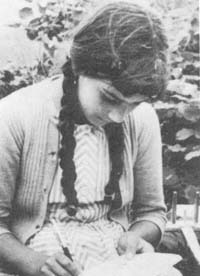 L: Conchita used to wear tresses,
but had her hair cut short (R.) in Santander.
36.—On August 4th, Mary Loly and Jacinta went into an ecstasy in the pine-grove. The trance followed the customary pattern: they proffered medals and rosaries to be kissed, fell on their backs, etc. Then, they got to their knees again and Jacinta addressed the Virgin.
"Conchita's back. They cut her plaits in Santander. She's very pretty and brown, 'cause she went to the beach."
Coming to, they answered several questions asked by those around them. One bystander had a tape recorder and he showed it to the children.
"If you see the Virgin again, tell her to speak into it."
They were in the midst of this conversation, when they went into a rapture once more. Mary Loly, who had entered her trance before she had time to relinquish the microphone, held it up.
"Go on; you speak, so people will believe . . ." she coaxed the Vision. "Why not? Go on. Say something, do . . ."
At the end of the trance, they listened to the conversation recorded on the tape. Reaching the point in question, they distinctly heard a very sweet voice say softly over the loud-speaker: "No, I shall not speak"