---
Next
Page
---
Previous Page
---
Next Chapter
---
Previous
Chapter
---
---
Home
---

The apparitions of
GARABANDAL
BY
F. SANCHEZ-VENTURA Y PASCUAL
---
Chapter Six
THE PRODIGIES CONTINUE
Page 70
---
Everyone was completely taken aback. The owner of the tape recorder jumped up, crying: "I'm sending this to the Pope." They rewound the tape and played it back, but the voice had disappeared. Crestfallen, they made their way down the hill to Mary Cruz's house. There, they switched on the tape recorder once more. This time, everyone heard the mysterious voice. The visionaries assured them that it was the Virgin's voice. The tape was rewound, and they listened again and again, but the only thing to be heard was the monologue of the little visionaries.
Can their ears have been playing tricks on them? Was it self-suggestion? That we shall never know. We can only go by the evidence of those who were present at the time. Accounts of this strange occurrence have been given by several different witnesses, each in his own fashion, but they all coincide in the essentials. These accounts are in writing, and signed by the following witnesses: Don Gaudencio Cepeda Palacios, aged 33, from Torquemada; Don Jeronimo Diez Serrano, 38, from Cabezón de Liébana; Don Agustín Pinay Martmez, 40, from Santillana del Mar; Don Luis Toribio Millán, 38, from Aguilar del Campo; Don José Salceda Calderón, 42, likewise from Aguilar del Campo; Dona Maria del Rosario and Doña María Elisa Salceda, the latter's daughters.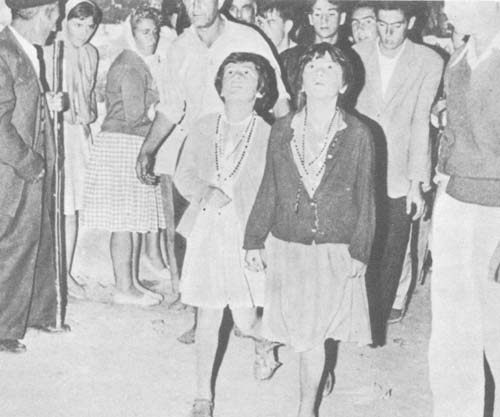 A striking picture of Loli and Jacinta walking in ecstasy.
Behind Loli is her father Ceferino.