The apparitions of
GARABANDAL
BY
F. SANCHEZ-VENTURA Y PASCUAL
---
Chapter Six
THE PRODIGIES CONTINUE
Page 71
---
Ecstatic Walks

37.—That August 4th also saw the first walk in ecstasy. In their ecstasy, the children walked either forwards or backwards. In fact, they did not need their eyes to see the way, for they were guided by the inner light of the visions.
On the 5th, they descended from the pines to the church in an ecstatic walk at breakneck speed. It was almost impossible to stop them, for they acquired tremendous impetus in their forward movements. Conchita was heard to ask forgiveness for having been to the beach, and she insisted on the need for a miracle so that everyone might believe.
During a nocturnal ecstasy on the 6th, they recited the rosary. At twelve minutes past ten, they came out of the trance, which had begun at half past nine. Fully conscious, they proceeded to say a decade to the Blessed Sacrament. The people present were overwhelmed by the contrast between the voice, speed and devotion of the children's prayers in ecstasy and in a normal state. "When in a trance, their concentration and devotion is breath-taking," said one witness.
On August 7th, they had their first vision at 2 p.m. Our Lady told them to stay at home and not go out. These instructions were part of the wonderful protection that the Virgin afforded them, thanks to which they never had a mishap, despite the masses of people from every walk of life who were flocking to Garabandal at that period. As a rule, the order to stay indoors came on days when the largest crowds gathered.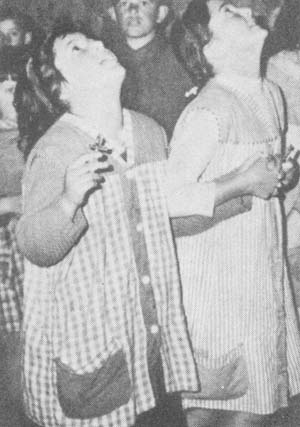 Loli and Jacinta
walk in ecstasy,
without taking
their eyes off the
Apparition, smiling
all the while, or crying
with the Vision.