The apparitions of
GARABANDAL
BY
F. SANCHEZ-VENTURA Y PASCUAL
---
Chapter Five
FROM JULY 30th TO AUGUST 3rd
Page 68
---
35.—At first, people did not take part in the apparitions, and the little girls were alone in their world. It was not long, however, before the public began to join in, saying the rosary aloud and asking for objects to be kissed by the Vision. From that time onwards, the children mentioned people by name in their dialogues. They even located several people and touched them. In such cases, although they could not see the people in question, they could feel them as long as they were connected with what the visionaries were doing or saying at the time. If the contact was with someone else, the children felt nothing, due to their total insensibility to the outside world.
When they returned a medal or rosary and tried to place it over the owner's head, they commonly said to the Vision: "You take my hands and move them, because I can't see." The movement then became much quicker, and so precise that the visionaries put the rosary or chain in place without even touching the head. *
From all that we have seen so far, the reader will have grasped the naturalness and familiarity with which they addressed Our Lady, always using the Spanish familiar form of "tú" and absolutely spontaneous expressions. Is this what Our Heavenly Mother wants from us, her children?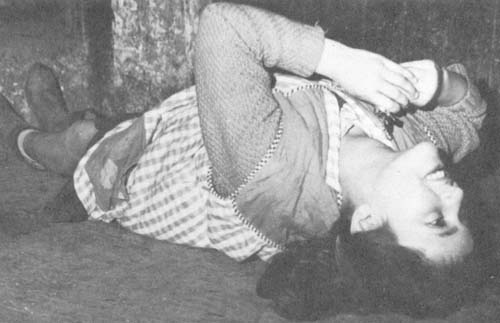 Loli's expression during her ecststic fall leaves no
doubt as to the beauty and reality of her vision.