The apparitions of
GARABANDAL
BY
F. SANCHEZ-VENTURA Y PASCUAL
---
Chapter Five
FROM JULY 30th TO AUGUST 3rd
Page 67
---
34.—Let us pass on to the second vision, at five past nine, on August 3rd. It was during this vision that Jacinta and Mary Loly experienced their first ecstatic fall. Afraid lest she had come to any harm, Jacinta's mother threw herself forward to catch her. Mary Loly was caught by a member of the authorities from Madrid who had come to Garabandal.
The two little girls fell to the ground simultaneously, but quite unconscious. In spite of the awkward posture that they were in, they continued to see everything as usual, and to experience those moments of profound bliss in the world of their vision. In the accompanying photographs the children can be seen on the ground and on a kitchen floor. Turned upside down, these photographs show the blissful, smile on Mary Loly's face, despite her awkward posture.
An eyewitness reported that "the postures that they adopt in their falls are generally very beautiful, like sculptures. They cannot be recalled—at least I have not seen them—ever to have adopted postures that were indecorous or indecent. They may remain on the ground for a moment, or they may lie there for several minutes. When they all fall together, both the fall and the movement of getting up are usually synchronized. Generally speaking, they form a beautiful ensemble."
To quote Fr. Royo Marin: "The positions of a person in ecstasy are highly varied, but always dignified and decorous." *
On August 3rd, they fell on the altar steps in the church, and remained reclining in that position for about thirty minutes. It was there that they asked the Vision for news of Conchita, and she told the children that their friend was on her way back to Garabandal. A few minutes later, they repeated their question.
"Ah! she's back home," they were heard to say. And so it turned out. Conchita had just that moment arrived from Santander.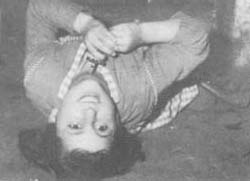 Ecstatic fall: Loli.