The apparitions of
GARABANDAL
BY
F. SANCHEZ-VENTURA Y PASCUAL
---
Chapter Four
DETAILS OF A FEW TRANCES
Page 57
---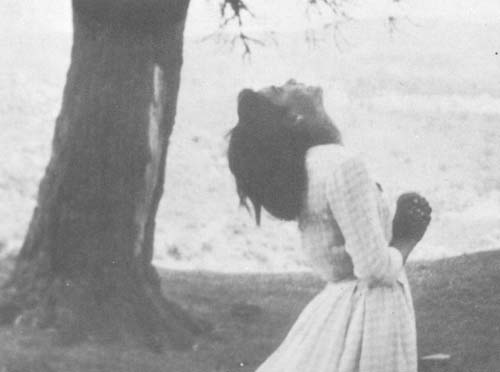 Conchita at the Pines a few moments before receiving
Holy Communion from the Angel

28.—On July 27th, there took place an apparition that has been described in detail by an eyewitness.
In the morning, the children had a vision, announcing another one for eight o'clock that evening.
"It's earlier today," the little girls declared.
At the appointed time, an estimated six hundred people were in San Sebastian de Garabandal awaiting events. There were seven priests and a Dominican professor from the Workers' University of Cordoba.
It was nearly eight o'clock when the four reached the lane. Before they could reach the enclosure, they fell to their knees, two in front and two behind, about eighteen inches apart. Conchita had her head craned back in a very awkward posture nearly all the time. The other three looked ahead, their eyes raised on high. Mary Cruz wept. There was a sweet expression on the four little faces. They occasionally smiled and, once or twice, burst out laughing.
At one juncture, they all held up the masses of medals slung round their necks for the Vision to kiss.