The apparitions of
GARABANDAL
BY
F. SANCHEZ-VENTURA Y PASCUAL
---
Chapter Four
DETAILS OF A FEW TRANCES
Page 58
---
"This one belongs to a man who told me you were to kiss it very hard for him."
Jacinta started one of those swaying motions that were later to end in ecstatic falls. Still in a trance, Mary Cruz put out her arm to prevent Jacinta losing her balance. There came a moment when Jacinta was half-lying on the ground.
"Cross my arms," Conchita requested Mary Loly. "No, you've crossed them the wrong way."
Only a visionary who was not in a state of ecstasy could take hold of another, in a trance, and move her limbs like a doll's to set them in a certain position. Anyone else encountered a rigidity that was difficult to overcome. They could lift one another up with the greatest of ease. On the other hand, two grown men were barely able to move a single child when in a rapture. In one of the photographs, Conchita can be seen, before the church door, lifting Mary Loly up to give something to the Virgin to be kissed. This is a result of the lack of gravity characteristic of the visionaries, and only they can do this to one another.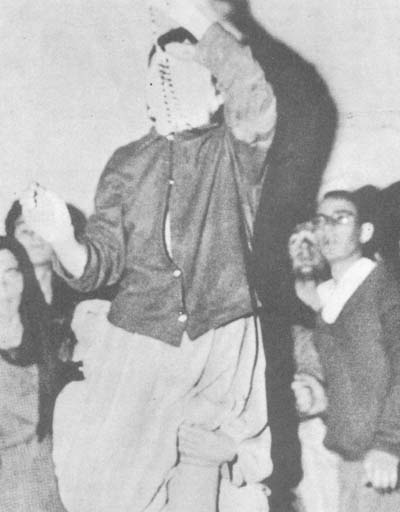 Photograph taken inside the Church. Loly easily lifts
Jacinta to help her reach up to the Vision, wherease
two grown men can hardly move her.