The apparitions of
GARABANDAL
BY
F. SANCHEZ-VENTURA Y PASCUAL
---
Chapter Four
DETAILS OF A FEW TRANCES
Page 59
---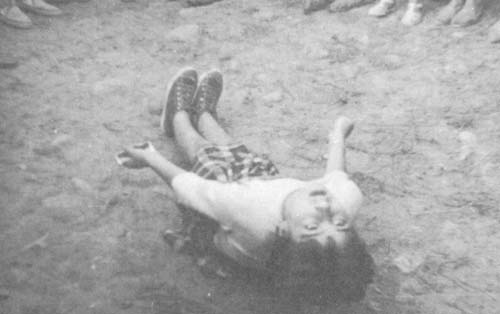 Conchita in ecstasy, rising after an ecstatic fall;
only half her body is resting on the ground
The cases of levitation that have occurred at Garabandal fall within this same group of phenomena.
In the course of this particular vision—according to the eyewitness report mentioned—Mary Cruz spent the whole time kneeling on a sharp wedge of stone some two inches thick, without any sign of pain or discomfort.
When the time came to say goodbye, they blew kisses into the air and opened and shut their hands in that expressive little wave of farewell so common in small children.
But, first, they pleaded with the Vision not to leave so soon. "An hour already . . . ? Noooo! Only a second . . . An hour an a quarter . . . ? Noooo! Just a short while . . . But it must be, if you say so, 'cause you don't tell fibs."
Conchita repeated the Virgin's words. "An hour and twenty-five minutes." Exactly the time the vision had lasted.
Their return to normality was sudden and of one accord, like electric bulbs when the current is switched off. All four lowered their gaze at the same moment. They recovered their customary speaking voices and said, "let's say the rosary."
I say they recovered their normal voices, because the conversations with Our Lady were carried on in a rather husky whisper. There are several copies of recordirig tapes with some of these conversations.
In the conversation of that particular day, they asked Our Lady why she had not brought the Infant Jesus with her; they talked