The apparitions of
GARABANDAL
BY
F. SANCHEZ-VENTURA Y PASCUAL
---
Chapter Three
OUR LADY OF MOUNT CARMEL
Page 56
---
During the apparitions, time stands still for the visionary. This explains why the girls pleaded: "Oh, but you have only been here a second." They were surprised to hear from the Vision how long the apparition had in fact been in progress. The duration was always confirmed subsequently by the onlookers, a fact that further substantiated the reality of the visions.
It is significant that, in spite of the long periods spent kneeling on the jagged stones in the lane, their heads craned back at an incredible angle, the visionaries never showed signs of the slightest weariness. In summer they were oblivious to the heat and never perspired, despite the breakneck speed of their ecstatic walks. After a rapture, the girls proved to be in a perfectly normal state, relaxed and rested.
The first few visions were of the angel. The same was the case at Fatima. Although some of the visionaries at Garabandal had heard of the apparitions at Fatima, it transpired that none of them knew that these had been heralded by the presence of an angel.
The little girls were restless while waiting for the Virgin, but without experiencing any sensation of fear or uneasiness. It was only at the very beginning, when the shining light prevented them seeing the path, that they felt afraid. But this was immediately followed by an overwhelming peace and joy. To quote the eminent theologian Fr. Royo Marin: "The visions sent by God usually produce great fear at first; but later they leave the soul full of love, humility, tenderness and peace." *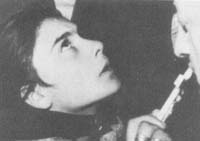 Conchita gives her crucifix to be kissed.
27.—The approximate sequence of the apparitions was as follows: from June 18th to July 1st, the children saw the angel, but only on July 1st did he speak to them. On July 2nd, the Blessed Virgin appeared. During the second half of July, they began to experience ecstatic oscillations, swaying to and fro. About August 2nd or 3rd, the first ecstatic falls occurred. And, on August 5th, there commenced the phenomenon of the ecstatic walks of one kind or another, as we shall see.