---
Next
Page
---
Previous Page
---
Previous
Chapter
---
---
Home
---

The apparitions of
GARABANDAL
BY
F. SANCHEZ-VENTURA Y PASCUAL
---
Chapter Twelve
CONCLUSIONS
Page 164
---
Mercedes Salisachs, Don Maximo Foerschler, Dr. Gasca, Fr. Marcelino Andreu, Fr. Lopez de Ratenaga (who has made a meticulous study of the phenomena at Garabandal, and drawn up a very thorough report on the matter); I talked to Fr. Corta and to several of the visionaries' relatives, etc. I also saw Dr. Puncernau from Barcelona, and Dr. Ortiz from Santander. I had the opportunity of clearing up one or two points, and rounding off my data on Garabandal.
That evening, we went to the car in search of some cans of food for an improvised cold supper. Afterwards, beneath the star-strewn expanse of a beautiful night sky, we organized a rosary service, a sublime procession up to the pines. Fr. Luna led, and the responses were given in many different tongues by a large group of men and women. We recited all fifteen mysteries, and Fr. Luna gave a very beautiful sermon on the feast of Corpus Christi which we were commemorating that day, June 17th, speaking of the hopes that had brought us all together in that atmosphere of peace of mind and love of Our Lady.
When we returned down the mountainside to the village, the road, seen from above, looked like a rosary of lights. We descended to take a closer look at the long line of cars, stretching out of sight. In many of them, pilgrims were sleeping. At Garabandal, a car is indispensable, for it becomes rather like a small apartment, serving as a larder, kitchen and dormitory.
Next morning, the priests all said Mass. The church was packed all morning. That day, Conchita was the center of everybody's attention. Wherever she went, there the crowds followed her. She received Holy Communion from the hands of Fr. Marcelino Andreu, a missionary in Formosa and brother of the late Fr. Luis. When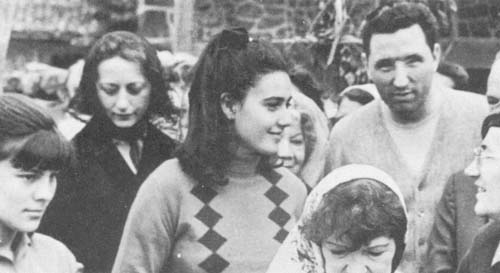 Conchita among the pilgrims. On the right Mr. Lomangino,
a blind American whose faith brought him to Garabandal.