The apparitions of
GARABANDAL
BY
F. SANCHEZ-VENTURA Y PASCUAL
---
Chapter Twelve
CONCLUSIONS
Page 163
---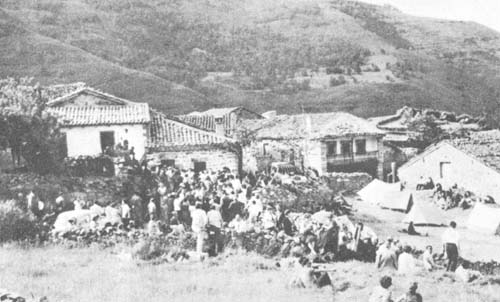 June 18, 1965: The crowd gathers and waits for Conchita.
We sat there for a long time, overcome with admiration at the very appropriate replies she had for everybody, ever ready with a joke or some of that innocent fun that always enlivens her conversation.
I remember someone remarking to her that, with so many foreigners arriving, she would have to study languages to understand everybody.
"On the contrary," Conchita replied, "if I don't know the language, it saves me answering things that I shouldn't or that I don't understand."
I hazarded an indiscreet question.
"Do you know roughly what time the apparition will be?"
She looked at me and smiled, but did not answer. I assumed the answer to be in the negative, but the following day I discovered that she had said nothing so as not to tell a lie. The fact was that Conchita knew every circumstance of the ecstasy that had been announced.
We took our leave and continued roaming the village streets, from house to house, from one group to another. At Garabandal one knows everyone, greets everyone. The soul blossoms out and people fully express both their ideas and their feelings. The afternoon sped by. I spent my time chatting with people, getting firsthand accounts of many earlier events in the village. I had a long talk with Fr. Valentin Marichalar, with Don Placido Ruiloba, with the sergeant-major of the Civil Guard who had been stationed in the district when the apparitions were frequent (he had come all the way from Barcelona to see this one), with Don Benjamin Gomez, the witness of the miraculous Communion. I also spoke with