The apparitions of
GARABANDAL
BY
F. SANCHEZ-VENTURA Y PASCUAL
---
Chapter Twelve
CONCLUSIONS
Page 162
---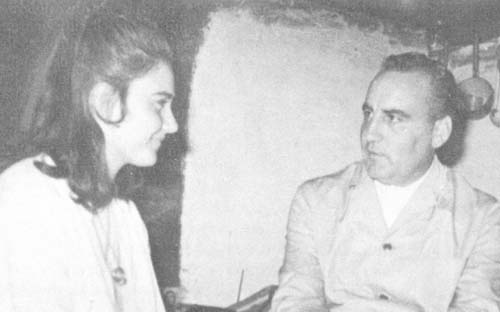 Conchita talking to the author.
Cruz came up. They both accompanied us to church. Coming out of the church we saw Jacinta. Fr. Luna spoke to her for a moment, until we left them all besieged by pilgrims. We then made our way to Conchita's house. We had heard she was ill in bed. This piece of news had given rise to very varied comments. Many thought it was an excuse since she had committed herself by announcing the apparition. But the truth of the matter was that Conchita had had a heavy cold for two days, and that very morning she had had a temperature of 101°. She felt better in the afternoon, however, and got up. When we reached her house, she was chatting amicably with a party of visitors, sitting on the bench by the door.
"Do you expect to see the Virgin?" one asked.
"No, not the Virgin; only the Angel," she replied, her manner very natural.
"And what if there's no apparition?"
"The Virgin can't tell a lie."
"Are you sure, then?"
"Of course, I'm quite sure." And she smiled, calm yet gay, puzzled that anyone should have misgivings about the apparition on the following day.
I was taken aback by Conchita's astounding memory on that occasion. The pilgrim with whom she was talking remarked that this was his second visit. Conchita reminded him of the month in which he had come on his first visit, and described the people who had accompanied him, details which the pilgrim himself appeared to have forgotten.