The apparitions of
GARABANDAL
BY
F. SANCHEZ-VENTURA Y PASCUAL
---
Chapter Twelve
CONCLUSIONS
Page 161
---
THE STORY OF A TRIP
70.—This book had already been printed and only needed binding when June 18, 1965, arrived.* This was the date for which Conchita had announced an apparition of St. Michael the Archangel. That date was also the fourth anniversary of his first apparition. Conchita prophesied the ecstasy more than five months in advance. The Blessed Virgin foretold it on New Year's Day. From that time onwards, she did not hesitate to announce the event to all who asked about it.
Accompanied by Fr. Luna, a zealous priest from Saragossa, I arrived at Garabandal at 2 p.m. on June 17th.
The village was packed with cars from many countries. It was no easy matter to find room to park. I abandoned my car in a narrow street which it virtually blocked, thanking my stars that, fortunately in San Sebastian de Garabandal there were no traffic police and, for the time being, no parking rules.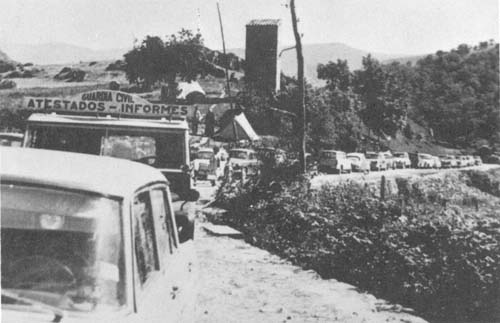 "The village was packed with cars from many countries . . ."

We walked round the streets, greeting acquaintances. We first of all met the Marques and Marquesa de Santa Maria. Not far behind them was Mary Loly. Fr. Luna, who was on his first visit to Garabandal, had a chance to talk to her. We admired her simplicity, her sweetness, her charm, that affable, amazingly natural welcome so characteristic of the four girls.
We had been chatting with Mary Loly for a while when Mary