---
Next
Page
---
Previous Page
---
Next Chapter
---
Previous
Chapter
---
---
Home
---

The apparitions of
GARABANDAL
BY
F. SANCHEZ-VENTURA Y PASCUAL
---
Chapter Seven
ODDS AND ENDS
Page 95
---
Happy Feast Day from Loly". The Don José in question was a stranger, a priest who had arrived at Garabandal that day without saying a word to anyone. Then, taking a holy picture, she wrote: "To Don José, with best wishes from the Virgin". While she was writing this note, her father covered her eyes to prove to everybody that she could not see what she was doing.
In a report dated April 15th, 1962, which I have in front of me as I write, a witness says: "Four of us stayed on at Conchita's, a priest, another cleric who had come in street clothes, the youth who had accompanied them, and a friend of mine. The young man inquired of Conchita whether she had remembered to ask the Virgin for a reply to the three questions to which he had requested an answer. 'Yes, I asked her,' Conchita replied, 'but the Virgin told me to answer you by letter when you write to me, because it isn't three things that you want the answer to, but more.' Her audience were taken aback. 'How many?' the youth inquired. 'Five,' came the reply. Conchita herself had no idea of these questions. My friend told me the story as a clear example of conscience reading, despite the fact that he is most guarded, when it comes to asserting things that have no natural explanation."

His report continues. "During her ecstasy, Mary Loly made the Sign of the Cross over all those present. One of our number, who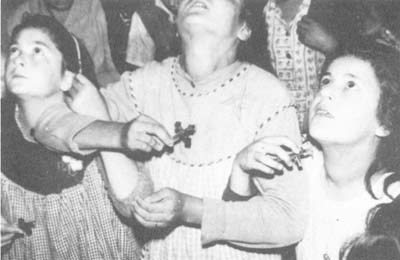 "When in ecstasy, light falling in their eyes does
not cause them to blink" (See text)
had already been crossed, changed his position, and when the little girl came to him a second time, she passed him by."