The apparitions of
GARABANDAL
BY
F. SANCHEZ-VENTURA Y PASCUAL
---
Chapter Seven
ODDS AND ENDS
Page 88
---
That very day, a totally skeptical priest from Asturias arrived wearing street clothes. He watched one of the children approach him. She offered him a crucifix to kiss several times. "If this is genuine," he thought to himself, "let the child come to." In an instant the visionary emerged from her ecstasy, smiled at the priest and turned to go home. Hardly had she taken a few steps, when she again went into a trance. The priest then said to himself: "If you've just made the Sign of the Cross over me with your crucifix because I am a priest, I want you to prove it to me again, giving me the crucifix to kiss and crossing me several times." This was a thing that the visionary had not yet done to. anyone.
No sooner had this request formed in his mind than the child turned round, came to him, "smiled, and besides proffering me the crucifix to kiss, made the Sign of the Cross over me three times in succession."
Seeing some visitors giving the children photographs to be signed, the priest followed suit. To his great astonishment, a few moments later the photograph was returned to him with a dedication alluding to his priesthood, despite his lay garb.
On orders from the parish priest, the little girls asked the Vision why she sometimes appeared under different titles. The reply came back: "I am Mary, the Blessed Virgin, and there is but one Blessed Virgin."
On another occasion, Fr. Marichalar, who entertained doubts as to the supernatural cause of the happenings at Garabandal, drew near to the child who was then talking to the Vision. She was clearly heard to say: "Oh, Don Valentin believes less today, does he?" The parish priest was taken aback. He had not confided his doubts to anybody.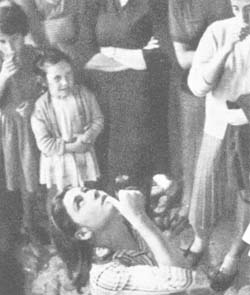 Conchita, in ecstacy,
makes the Sign of
the Cross.