The apparitions of
GARABANDAL
BY
F. SANCHEZ-VENTURA Y PASCUAL
---
Chapter Seven
ODDS AND ENDS
Page 87
---
to the right person without hesitation.
The same occurred with someone else, although this time in a far more spectacular fashion, because the child groped her way through the crowd, consulting the apparition until she found the owner.
No apparition took place on October 8th. Mary Loly was in bed with a heavy cold. Mary Cruz and Conchita were taken down to Cosio by car and returned late for the rosary at the church. Conchita asked Jacinta to beg the Blessed Virgin's forgiveness on her behalf, if she saw her, for having missed the rosary.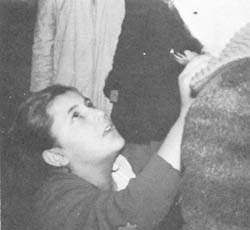 The girls return
the medals to
their owners.
"Work the miracle for those who believe."
48.—On September 1st, while in ecstasy, Conchita said: "How lovely the miracle is! How I wish you would work it soon! Why don't you! Do it just for those who believe; the people who don't believe don't mind anyhow!"
On October 16th, Mary Loly placed a wedding-ring on a woman's finger and, taking another, she worked her way through the onlookers until she faced a stranger who proved to be the husband of the lady who had handed the visionary the two rings.
In the course of the same trance, a stranger entered the house. It was his first visit to Garabandal. In his arms he bore an ailing child, convulsed with sobs. The visionary at once made her way towards the stranger and made a Sign of the Cross over the mite with her crucifix. The child instantly stopped crying and chuckled happily. Overcome with emotion, the father said: "I've never seen him smile until today." On emerging from her trance, Mary Loly asked after the sick child. "The Virgin said I was to tell you not to worry," she informed the parent. At that very moment, Jacinta arrived on the scene in an ecstasy. Inquiring for the same man, she gave him the same message of assurance from the Virgin.