The apparitions of
GARABANDAL
BY
F. SANCHEZ-VENTURA Y PASCUAL
---
Chapter Seven
ODDS AND ENDS
Page 82
---
of mystical phenomena which, although not visions, locutions or revelations, as such, are connected in a way with the mind, too. These are certain special talents for the arts and science that some people receive through divine inspiration ..."
44.—On the 16th, they spoke to Fr. Luis. They asked him what he had seen when he cried out "a miracle" several times over. He gave them certain message's for his brother. The little girls reported that they had not seen him, but had heard him speak in exactly the same voice he had used while alive. His voice proceeded "from a light like the sun, with rays falling from it."
On the evening of the 20th, the children continued an interrupted conversation held with Fr. Luis before his death; they asked him to teach them words in foreign languages. Witnesses noted down the words that the visionaries repeated after him, first in French, then in Latin, and finally in German.
The importance of this does not lie so much in the words themselves, but in the way the children repeatedly corrected themselves when their pronunciation was wrong, until they got it right. They gave the impression of truly repeating the words after their teacher.
Then, one of the girls asked several questions, from which could be gleaned a description of Fr. Luis Andreu's winding-sheet and astounding details of his funeral. These were not even known to his brother, who was present during the conversations and could not get over his amazement. The details were all fully confirmed later.
During another trance, Fr. Luis taught them the "Hail Mary" in Greek.
When they next witnessed an apparition and asked where Fr. Luis was, the Blessed Virgin simply smiled. "After all, what need is there for you to tell us, when we already know," the children commented.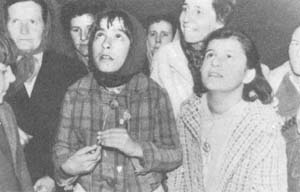 Mary-Cruz and Loli in ecstasy (1962)