The apparitions of
GARABANDAL
BY
F. SANCHEZ-VENTURA Y PASCUAL
---
Chapter Three
OUR LADY OF MOUNT CARMEL
Page 52
---
25.—The children exuded joy and happiness after seeing their Heavenly Mother. When they rose early next morning, the first idea that entered their four heads was to return to the scene of the apparition to give thanks for the favor granted them that memorable day. Afterwards, they wended their way home, prepared to obey their respective parents in every way. From that day onwards, they set out to practice Our Lady's instructions as to their conduct in this world.
At school, the teacher. Doña Serafina Gómez, received them with tears in her eyes, smothering them in kisses. She did not tire of exclaiming how lucky they were to have been chosen by God for so exceptional a favor.
As the customary hour of the apparitions approached, the children showed signs of impatience and excitement.
"It's time," their parents pointed out. "Why don't you run along and pray in the lane?"
"She hasn't called us yet," answered the children.
It was the first time that the little girls mentioned what they describe as the "llamada" or summons. This is an inner voice which they perceive quite distinctly; a kind of wordless warning that does not come through the ears, but is quite unmistakably heard. A considerable time elapses between the first summons and the second, while the third follows close on the heels of its predecessor.
An investigator of events at Garabandal noted down Jacinta's impressions.
"When the Virgin calls you, does she say 'Jacinta'?"
"The first time," she explained, "she just says 'Jacinta'; the second, 'Jacinta, come'; and the third time, 'Jacinta, hurry, hurry, hurry . . .' But all this is inside me and without actual words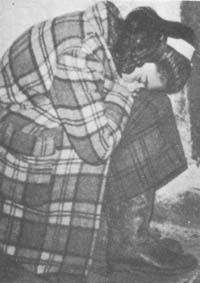 Conchita has received one call, but it is
late and she has fallen asleep waiting
for the next call.