The apparitions of
GARABANDAL
BY
F. SANCHEZ-VENTURA Y PASCUAL
---
Chapter Three
OUR LADY OF MOUNT CARMEL
Page 51
---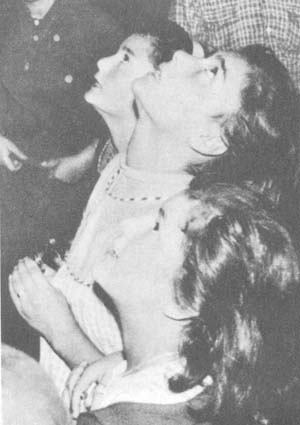 Loly, Conchita and Jacinta in ecstasy.
comes wearing a white robe, a blue mantle and a crown of golden stars; her hands are outstretched with a brown scapular, except when she has the Infant Jesus in her arms. Her dark chestnut hair is long and parted in the middle. Her face is rather long, with a very dainty nose. Her mouth is very pretty, with slightly full lips. She looks about seventeen and is tallish." All four girls stress the unmistakeable sound of her voice. "There's no other voice like hers."
She told them that she was Our Lady of Mount Carmel. God willing, once the truth of this story is substantiated, she will come to be venerated under the title of Our Lady of Mount Carmel of Garabandal.
Both the Virgin and the other celestial beings who appeared to the girls were seen full-face. If they moved from one place to another, they usually did so without moving their feet, and facing the visionaries all the time.
The breeze sometimes stirred the Blessed Virgin's hair, which fell in a cascade almost to her waist.
When the Vision disappeared, "we were very sad", says Conchita.