The apparitions of
GARABANDAL
BY
F. SANCHEZ-VENTURA Y PASCUAL
---
Chapter Two
THE STORY BEGINS
Page 35
---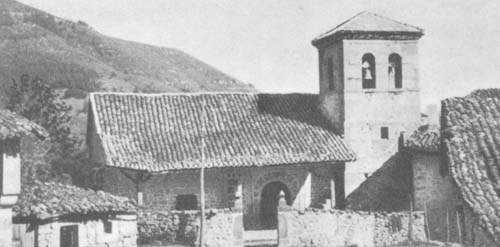 The Church, seen from the outside.
On arriving at the church, they did not dare enter. The four made their way round to the rear of the building, where they huddled in a corner and started to cry. Some other smaller children were playing nearby and soon discovered them.
"Why are you all crying," they inquired.
" 'Cos we've seen an angel."
The little newcomers ran off to tell the schoolmistress. The four girls felt better for their quiet weeping. Returning to the front of the building, they entered the church. It was not long before the schoolmistress appeared, wearing a look of anxiety and not a little surprised.
"Is it really true that you've seen an angel?"
"Yes, Señora"
"It can't have been your imagination, can it?"
"No. We're quite positive we saw him."
"What did he look like?"
"He was wearing a long, seamless blue robe. He had fairly big pink wings. His face was small; it wasn't long and it wasn't round either. His eyes were black. He had fine hands and short finger-nails. His feet weren't in sight. He looked about nine years old. But, although he was a child to look at, he gave the impression of being very strong . . ."
The details gradually came out, one by one. All the girls' replies agreed. The schoolmistress, who had a high opinion of the children, did not doubt their sincerity for a moment.
"In thanksgiving," she said, "let's say a decade of the rosary to the Blessed Sacrament."
This concluded, they made their way home, each filled with a sweet sensation between fear and joy. It was nine o'clock.