The apparitions of
GARABANDAL
BY
F. SANCHEZ-VENTURA Y PASCUAL
---
Chapter Two
THE STORY BEGINS
Page 36
---
Señora Gonzalez, who doted on her daughter, greeted Conchita with ill-humour.
"A fine time of night to be coming home! Haven't I told you many a time, you're to be back before dark?"
Still spellbound by her recollection of that glowing figure, and disconcerted by her mother's reproaches for arriving so late, Conchita did not dare enter the ground-floor kitchen where the household spent much of the time. She leant awkwardly against the passage wall near the outer door.
"You see, Mother," she began, "we saw an angel today."
"So!" retorted Señora Gonzalez indignantly. "On top of coming home late, you're going to tell me a lot of nonsense."
"No, Mother, honestly. We did see an angel."
Such insistence left Aniceta Gonzalez nonplussed. She knew that her daughter was customarily truthful. Tentatively at first, Conchita started to tell her mother what had occurred. She ventured some more details. Senora Gonzalez was at a loss, but decided that silence was the best policy.
"Go on up to bed. We'll discuss it in the morning." It was a quarter past nine.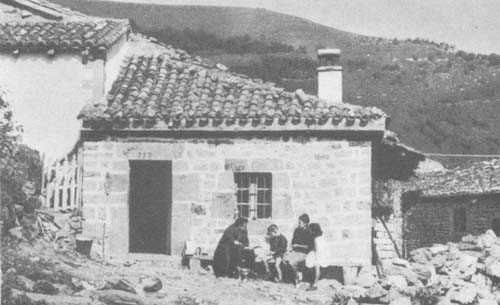 Conchita's house.