The apparitions of
GARABANDAL
BY
F. SANCHEZ-VENTURA Y PASCUAL
---
Chapter Two
THE STORY BEGINS
Page 34
---
pebbles. There the four of them were sitting, in the positions seen in the photograph taken shortly afterwards, when, all at once, Conchita saw "a very beautiful figure appear, surrounded by a great light that did not dazzle my eyes." * When her three companions saw her transfigured, they imagined that she had had an attack, and they were about to shout for help. But, her hands clasped together, Conchita pointed to the apparition.
"Look! Over there!"
Mary Loly had already risen to her feet to fetch help, but now they looked in the direction which Conchita was indicating.
"The angel . . . !" they all gasped. A short silence ensued as the overawed children contemplated the vision before them. They did not say a word. Nor did the angel. Then, he vanished into thin air ...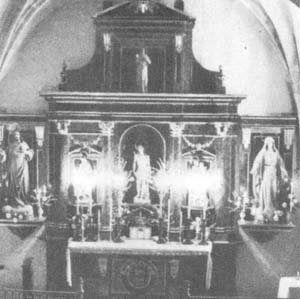 Interior of the Church at Garabandal
Very frightened by what they had just seen, they ran to the church. On the way, they passed through the little square where some of the villagers were dancing to the strains of a bagpipe and drum. Here, they ran into a little girl called Pili Gonzalez.
"How pale and scared you all look," Pili remarked. "Where have you been?"
"Stealing apples," they answered, ashamed at having to admit the truth.
"Oh, is that all?" the other rejoined disdainfully.
"We've seen an angel," they chorused.
"D'you really mean it?
"Yes, yes . . . ," they insisted, and hurried off to the church. Meanwhile, the surprised Pili told everybody in the square what she had just heard.