The apparitions of
GARABANDAL
BY
F. SANCHEZ-VENTURA Y PASCUAL
---
Chapter Two
THE STORY BEGINS
Page 33
---
Mary Cruz stopped running and woefully retraced her steps to join her friends. Conchita emerged from her hiding-place. A voice summoned the little girl who had accompanied Jacinta and Mary Loly, and the four older girls were at last alone. For a few moments, they did not know what to do. But, eventually, as Conchita recounts in her diary, "thinking better of it, all four of us went back to picking apples."
They were engrossed in their innocent mischief when they suddenly heard the schoolmaster speaking to his wife. "Go and take a look out in the vegetable patch, and scare away the bees. They're at the apple tree again."
Hearing this, the four girls burst into fits of giggles and, their pockets stuffed with fruit, they scrambled over the wall. They had enjoyed themselves. Panting, they reached the lane and began to munch their booty in peace. Thunder rolled through the mountains.
It was half-past eight in the evening
"Did you hear that?"
"Yes, thunder. It's going to rain."
After satisfying their appetites, they began to feel the first pangs of remorse.
"What we've done isn't right," said one.
"Our guardian angels must be very sad," commented another.
"And the devil must be very pleased," added a third.
It was more or less in these terms that they interpreted what they had heard the parish priest say in catechism class. To repair the harm they had done, Conchita had another idea.
"Let's throw stones at the wicked angel, so as to console the good angel," said she. And picking up some stones from the lane, they began to cast them "to the left, with all our might," says Conchita, "at a spot where we said the devil was."
Having thus set their uneasy consciences at rest and shown their repentance, they sat down in the lane to play marbles with some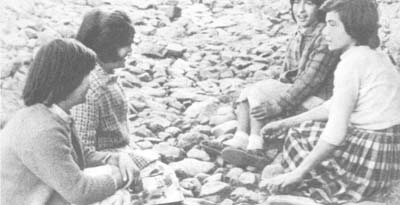 They sat down in the lane to play marbles.