---
Next
Page
---
Previous Page
---
Previous
Chapter
---
---
Home
---

The apparitions of
GARABANDAL
BY
F. SANCHEZ-VENTURA Y PASCUAL
---
Chapter Twelve
CONCLUSIONS
Page 168
---
of her celestial colloquy: "No, no, not yet ... " said Conchita pleading in that low, rather husky tone of voice which she has in ecstasy. All of a sudden, she raised her hand, in which she bore a crucifix. She held it out at the Vision's command for Fr. Pel to kiss. I still have no idea how Fr. Pel managed to arrive at the forefront of the crowd. Afterwards, she held it out to one of Fr. Pel's companions, and finally to Monsieur Jean Masure, a Frenchman residing in Madrid. To him she later said:
"The Angel says I'm to tell you that the Blessed Virgin has granted your request."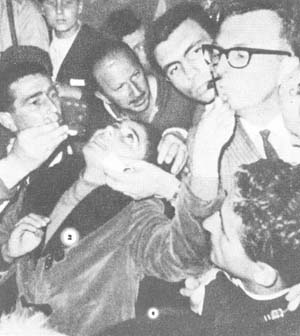 Conchita in ecstasy gives the
Crucifix for M. Masure to kiss.
The ecstasy was breathtaking, and lasted some twenty minutes. Without warning, she rose to her feet and then crashed, like lead to the ground, her knees smashing onto the sharp stones in the lane. A grinding crunch was heard, like the sound of two stones being struck together hard. Nevertheless, it was afterwards seen that she had not come to the slightest harm.
She proceeded to make the Sign of the Cross in the customary way, and then emerged from her trance. At that instant, her eyes, which had unblinkingly withstood those torrents of light for twenty minutes, squeezed tight shut, and she covered her face with her hands to protect her eyes from the glare.