---
Next
Page
---
Previous Page
---
Previous
Chapter
---
---
Home
---

The apparitions of
GARABANDAL
BY
F. SANCHEZ-VENTURA Y PASCUAL
---
Chapter Twelve
CONCLUSIONS
Page 167
---
went out escorted by her brothers, by a few village lads, and by a large group of Civil Guards.

The Confirmation of Garabandal
I wanted to stick to the group escorting Conchita, but I was unable to. At once, an avalanche of people prevented my following close behind her. Hundreds of lights flashed from the shadows to light the way. Conchita broke into a run. She drew farther and farther away from me. We all entered the sunken lane jammed shoulder to shoulder. Suddenly, this human wave halted, wavering dangerously. Some fell to the ground. Spotlights flashed on, operated by technicians of the Spanish newsreel company NODO, and the Italian Television. As best I could, I clung to the wall of the lane and, after some effort, managed to scale it. I succeeded in reaching the top and leaning forward, I could see Conchita some distance below. On reaching the center of what is known as the "cuadro", Conchita had fallen to her knees in a rapture.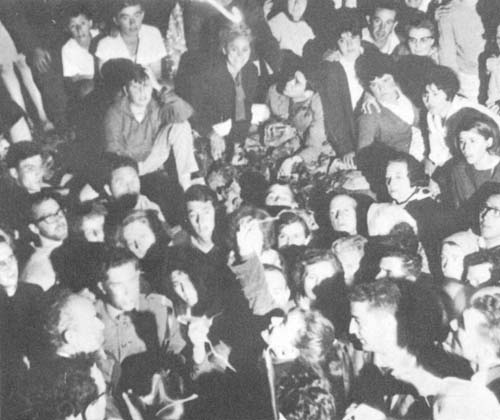 Conchita in ecstasy, and the crowd on June 18, 1965 (see text).

I saw her with her eyes wide open and unblinking, receiving the full glare of the spotlights and flashbulbs. Her face was transfigured; it seemed transparent. Tape recorders were recording part