---
Next
Page
---
Previous Page
---
Next Chapter
---
Previous
Chapter
---
---
Home
---

The apparitions of
GARABANDAL
BY
F. SANCHEZ-VENTURA Y PASCUAL
---
Chapter Ten
POINTS TO CONSIDER
Page 145
---
and joy that exists among the "Garabandalistas" or Garabandalites * together with everything that has happened there, these are intuitive arguments that lead to an inner conviction tending to belief in the supernatural origins of the phenomena.
What is necessary now is that this faith should grow and spread. But the results may depend on our own behavior. We have received as a gift, an invitation to believe in Garabandal. Perhaps it depends on us whether or not that faith increases, and whether or not the miracle takes place to confirm the supernatural truth of the message; this is the human factor of cooperation which is always required in God's work.**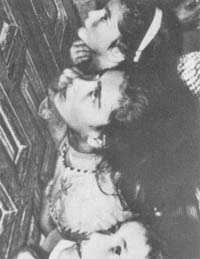 The girls follow their
Vision to the door of
the church
---
* In her reports. Miss Carmen Cavestany, one of the main witnesses of a great majority of the events at Garabandal, and an unflagging apostle of the Message given out by the visionaries, remarks on the spirit of unity, friendship and inner joy that links all those who saw the unforgettable days of the raptures together. Hers are the following words, taken from her writings on the subject:
"Everything at Garabandal leads us to purify ourselves, there and elsewhere, by living the Message in our daily lives."
"Conchita wrote me saying that the Blessed Virgin wants the Message to be spread throughout the world."
"We should form a sort of union of all of us who go to Garabandal, committing ourselves to a common programme, namely, fulfillment of the Marian Message."
** This chapter had already been written when news was received that Conchita had had the announcement of what she calls a "warning so that the world will make amends". "This warning," she says, "is like a punishment, for the just and the wicked alike; for the just, so as to bring them closer to God, and for the wicked to announce to them that time is running out, and that these are the last warnings. It is very long; I cannot explain it by letter. Nobody can prevent this coming. It is a certainty, although I do not know the day or anything about the date."
From this paragraph, taken from a letter written by Conchita, it can be deduced that the punishment will, or will not, come, depending on the conduct of the human race. But, what is certain is that, before the possible punishment, and as a last means of persuasion to convert mankind, there will be an appeal from Heaven that will cause a state of tension and great fear.
---
Next
Page
---
Previous
Page
---
Next Chapter
---
Previous
Chapter
---
---
Home
---