The apparitions of
GARABANDAL
BY
F. SANCHEZ-VENTURA Y PASCUAL
---
Chapter Nine
THE MESSAGE
Page 131
---
Afterwards, I heard that the ecstasy had lasted almost an hour.
For my part, I had had enough. I stayed where I was, alone in a corner. Leaning back against the wall, I clung to the movie-camera with my last remaining strength. I do not know how long I stood there. When a calm lassitude had replaced the nervous tension in my limbs, I rambled aimlessly through the village streets. I exchanged impressions with people as I went, and finally made my way back to Conchita's house. She was not in a trance now, and she wrote a little dedicatory note for me on a holy picture.
I said goodbye to her and to Fr. Valentin Marichalar, who had sent for me to ask my address. At about 3:15 a.m., feeling totally exhausted, I set out from San Sebastian de Garabandal bound for Barcelona.
Not for one minute did it cross my mind that the movie-camera could have recorded anything. For one thing, there was my ignorance of how to handle the camera, and, for another, the scant light, because the phenomenon took place in the dim glow cast by flashlights. Nevertheless, I took the film to be developed. And now came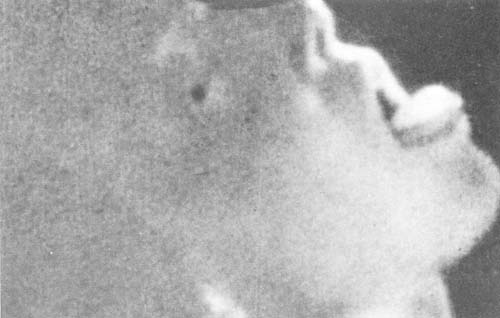 Mr. Damiáns photograph of the Miracle of the Host
"The Sacred Host appeared on her tongue. It was totally unexpected . . . (She) held the Sacred Host motionless on her tongue for about two minutes before consuming it normally . . ."