The apparitions of
GARABANDAL
BY
F. SANCHEZ-VENTURA Y PASCUAL
---
Chapter Nine
THE MESSAGE
Page 121
---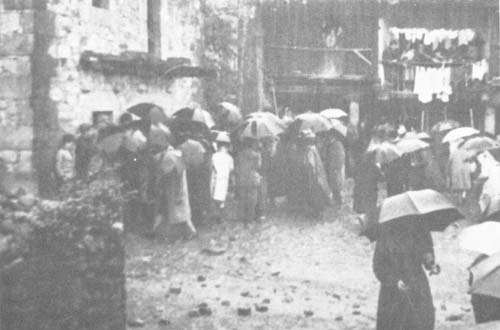 October 18, 1961: an expectant crowd gathers
and waits in the rain for the Message to be read.

very great punishment will befall us. The cup is already filling up, and if we do not change, a punishment will come."
At the foot of this message were the signatures of the four children, with their respective ages beside their names.
People's disappointment was quite understandable. Many had been without sleep since the previous day. They had borne with the rain. They had built their dreams around this day, and now, when the time came, all they found was a grubby, crumpled scrap of paper in which four small children asked them to make sacrifices and visit the Blessed Sacrament, all in their atrocious spelling and even worse syntax.
"This is the end of Garabandal," groaned the majority.
Even Fr. Luis Andreu's brother, Fr. Ramon, who had been fortunate enough to see so many wonders in the past few months, began to have his doubts. It was all over as far as he was concerned, too. But, then, a very odd thing occurred. Let us hear his own account of it, taken from a report written at the time.
"I stayed up there, on the mountainside, for about an hour, watching torches descending like a nightmare; at length, I wended my way down to the village. I entered a house to keep dry, but I was feeling so discouraged that everything irritated me. I left, and made for another house in the hopes of seeing familiar faces and not feeling so lonely. A few minutes after I arrived, someone came running to look for me, saying that the children wanted to see me urgently. I was conducted to Maria Dolores' house. There, the little