---
Next
Page
---
Previous Page
---
Next Chapter
---
Previous
Chapter
---
---
Home
---

The apparitions of
GARABANDAL
BY
F. SANCHEZ-VENTURA Y PASCUAL
---
Chapter Nine
THE MESSAGE
Page 120
---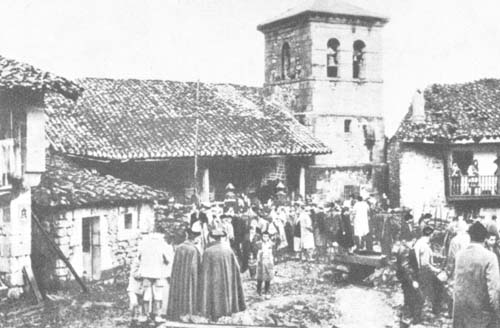 October 18, 1961: an expectant crowd gathers
and waits in the rain for the Message to be read.
56.—Conchita announced that the Virgin had given them a message. At the express command of Our Blessed Lady, they would make this message known on October 18th (1961).
The news spread all over Spain. On the day, pilgrims arrived in the hundreds, prepared to hear a sensational revelation. Most expected a spectacular miracle. Some even hoped to see the Blessed Virgin. As at Fatima on the day of the miracle of the sun, there was a downpour. Drenched to the skin and up to their eyes in mud, the public waited patiently. The visionaries had been instructed to read the message in church. Some members of the Commission intervened, however, and it was decided to make the announcement up in the pine grove, at 10 p.m. Submissive and obedient, but soaking wet, a very large crowd trudged their way up the steep mountainside at the appointed hour.
In the dim light of a torch, one of the little girls drew from her pocket a piece of paper signed by all four of them. In a weak voice, she proceeded to read the document. She could not make her reedy voice heard clearly, and the message was re-read afterwards by one of the people present. There was nothing very extraordinary about it, nothing spectacular. No miracle was forthcoming. The works of God are always simple, and sometimes even elementary.
The exact text drawn up by the children was couched in the following terms: "People must make many sacrifices and do much penance, and we must pay many visits to the Blessed Sacrament. But, first of all, we must be very good. And if we do not do this, a