The apparitions of
GARABANDAL
BY
F. SANCHEZ-VENTURA Y PASCUAL
---
Chapter Seven
ODDS AND ENDS
Page 98
---
The prodigies at Garabandal have brought about countless conversions and awakened not a few vocations.
At the Vision's behest, the children asked for a shrine to be built in the pine grove and dedicated to St. Michael, for it was he who appeared to them in the beginning and prepared the children for their Visions of Our Blessed Lady.
When in ecstasy, light falling on their eyes does not cause them to blink. This can be appreciated in a film taken under bright arc-lights which made no impression on the visionaries at all. But, on emerging from their trance, they could be seen to react immediately, shielding their eyes from the unbearable glare.
Let us end this chapter by recalling the case of a visitor who was wedged in the farthest corner of the house where the children were in a trance. The visitor inwardly formed a request. "If my confessions hitherto have been good, let the child come to me and offer me her crucifix to kiss." No sooner thought than done. One of the visionaries left her companions and shuffled across on her knees, in a trance, to the person in question.
I think these brief details help to complete the picture, giving added depth to the prodigies that we are examining.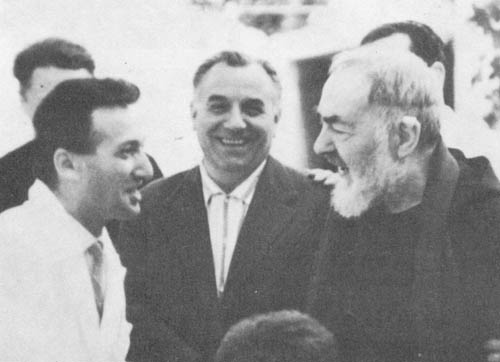 Padre Pio in conversation with Carlos Campanini, an
Italian television actor, who witnessed the ecstasy of
June 18, 1965