The apparitions of
GARABANDAL
BY
F. SANCHEZ-VENTURA Y PASCUAL
---
Chapter Seven
ODDS AND ENDS
Page 91
---
When the girls go into an ecstasy, they fall to their knees in a flash with crushing force. A film recording the moment of entering an ecstasy has been examined in slow motion, photograph by photograph, but the fall itself is not to be seen on a single frame. In a split second they pass from a normal standing position to their kneeling in ecstasy. How is it, one may well ask, that they can fall onto jagged stones and yet not come to any harm, and show no sign of pain?
In one trance, Conchita walked through the streets of Garabandal on her knees. She was wearing long stockings. After the ecstasy, they were found to be undamaged, despite the roughness of the ground.
During her vision on January 27th, 1962, Conchita was given a medal and chain. The chain was locked with a safety-catch and was very tricky to unfasten. Conchita did not know how the catch worked. Finding that she was unable to open it, the child appealed to the Vision. "It's broken, I can't do it. You put it on for me . . ." The chain was in place in no time, although the visionary herself could not work the catch.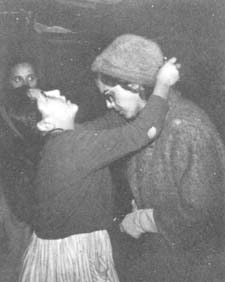 Without taking their eyes off the Vision,
the girls return the medals to their owners.

Many have been the cases of medals kissed by the Virgin acquiring on occasions a curious luminosity, and of rosaries that have sometimes given off an unmistakable scent of roses.
Given their age and constitution, the children ought to have been exhausted, for the length and frequency of the trances was enough to have made them seriously ill. But, their appearance and behavior were proof of their glowing health.
"You didn't believe before, but now you do."
50.—A skeptic came to Garabandal. During one vision, he thought