---
Next
Page
---
Previous Page
---
Next Chapter
---
Previous
Chapter
---
---
Home
---

The apparitions of
GARABANDAL
BY
F. SANCHEZ-VENTURA Y PASCUAL
---
Chapter Six
THE PRODIGIES CONTINUE
Page 80
---
41.—But this is not the end of the story of Fr. Luis. The most surprising part of all took place a few days later, when the children declared that they had spoken to him. They stated that they had seen a light, like those that accompanied the Visions, and that from this light had come the voice of Fr. Luis. On some occasions, these conversations took place in the presence of his brother, Fr. Ramon Andreu. When he heard the children say that they had spoken to his brother, he at first dismissed the entire series of phenomena as a fabrication on the part of the excessively impressionable little girls. He believed that having been upset by his brother's death, they had now taken to saying that they could speak to him just as they had formerly done with the Virgin, which was doubtless the fruit of their imaginations, too. Much to his surprise, however, he heard the children holding a conversation in ecstasy, and realized that they were discussing matters that were known only to the two brothers. They proceeded to speak of some details of the last few days, and of his death. Some of these details were unknown, even to Fr. Ramon, and it was only afterwards that they were verified. During their talk, the children even heard words in foreign languages which they had difficulty in pronouncing.
As a result of this extraordinary series of events, Fr. Andreu's mother entered a Salesian convent and took her vows on April 19th, 1962, thus realizing an ambition that she had discussed with her son Luis about ten years before his death.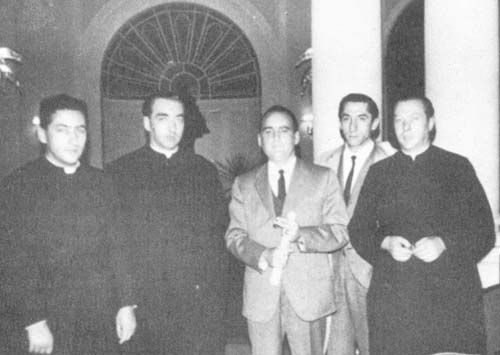 The author with Fr. Luis' brothers, three of whom are
Jesuits (Marcelino, Ramón and Alejandro).