The apparitions of
GARABANDAL
BY
F. SANCHEZ-VENTURA Y PASCUAL
---
Chapter Three
OUR LADY OF MOUNT CARMEL
Page 54
---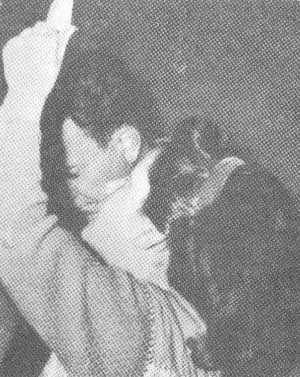 Loly in ecstasy offering
the Vision a holy picture
to be kissed. Behind her
is her father.

offered to be kissed, too. This explains the photographs where the children are seen with thick ropes of rosaries round their necks and their fingers covered in wedding rings.

Curiously enough, if an object was offered to be kissed a second time, when the little visionaries held it up to the Vision, they exclaimed: "Oh, has this one already been kissed?" And on returning it to its owner, they often declared; "The Virgin says this one's already been done.''

In their trances, the children's faces underwent a complete change, turning radiant and softly beautiful. This can be observed in the photographs.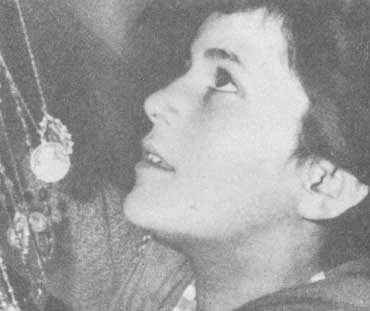 Loly in ecstasy
gives the Vision some
rosaries to be kissed.