---
Next
Page
---
Previous Page
---
Previous
Chapter
---
---
Home
---

The apparitions of
GARABANDAL
BY
F. SANCHEZ-VENTURA Y PASCUAL
---
Chapter Twelve
CONCLUSIONS
Page 157
---
She announced a new apparition of the Angel for the 18th of June. This announcement was a most important prophesy for the happenings at Garabandal; in the first place, because it was a prophesy made six months in advance. As Dr. J. M. Bonance said at the time: "Let the supporters and opponents of the supernatural origin of Our Lady of Mount Carmel's apparitions take this unprecedented opportunity of confirming their opinion and of correcting it. It is a new invitation open to all mankind, with far longer notice than the famous miracle of the Sacred Host on July 18, 1962."
What is more, this forecast of the date was a sign of the Virgin Mary's benevolence, because, if the prophesy turned out to be true, mankind would be better able to prepare for the announcement of the great miracle, whose authenticity it would then prove difficult to question . . .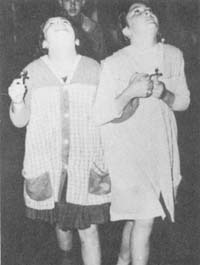 Ecstatic walk of Mary-Loli
and Jacinta, May 1962.