The apparitions of
GARABANDAL
BY
F. SANCHEZ-VENTURA Y PASCUAL
---
Chapter Eleven
CHANCERY OF SANTANDER
Page 152
---
How is it that everything is so confined to the spiritual plane? Why are doctors, industrialists, theologians, educated people and simple people alike, all baffled by what they see?
This is but a small fragment of the ensemble of prodigious happenings that draw people in their thousands to the picturesque rural scene.
There are four girls, and in a few days' time a year will have passed since their first apparition. At 10 p.m. on August 8, these children saw how the Blessed Virgin announced his coming death to Fr. Luis Maria Andreu, a Jesuit priest. Fr. Andreu died without any agony at all, passing from his normal state to death instantaneously, after declaring: "Today is the happiest day of my life." He died six hours after his death was announced.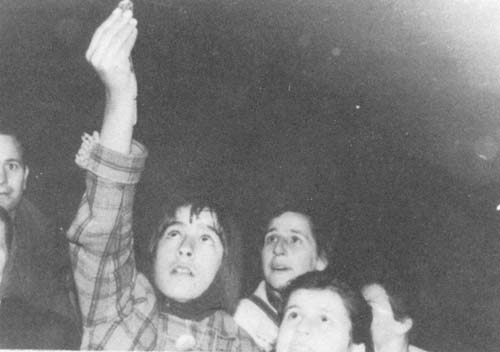 The girls offer their crucifixes to people to kiss, and whether or not they make the Sign of the Cross in blessing, they serve as the vehicle of God's Grace, which touches people's hearts and brings tears to the eyes of the strongest among us.
So great a number of cases are there, that a whole book would be necessary to relate them all.
The only thing one needs when one goes to Garabandal is some spiritual training and good will.
Our Holy Mother the Church, as Mother of us all, will guide us along this pilgrim's way with her boundless prudence. And it falls to her to have the last say in this matter. The Apostolic Chancellor of the diocese of Santander wrote in October 1961, even before the time factor had become yet another argument in favor of these events, among other pastoral advice, "If God, Himself or through His Most Blessed Mother, thinks fit to speak to us, we should be attentive and listen to his words, saying to Him like Samuel: 'Speak, Lord, Thy servant is listening'."