The apparitions of
GARABANDAL
BY
F. SANCHEZ-VENTURA Y PASCUAL
---
Chapter Eight
OTHER TESTIMONIES
Page 118
---
"Who do you mean, Mary Loly? M ..... .?" I could not get his name out.
But she forestalled me. "That's right, Miguel. She said to me: 'Above all, tell the lady that this very minute while I am speaking to you, Miguel is watching her, and that he is full of joy, that he is very happy; very, very happy . . . indeed."
"Tell me, Mary Loly. How do you know his name is Miguel?"
The little girl was quite unperturbed. Very simply, she replied: "Because I asked her: 'Who is Miguel?' And she said to me: 'That lady's son'."
I have confirmation of all this recorded on tape. The following day, I begged Mary Loly to record that passage so my husband could hear it. Naturally, the flow of our conversation was less spontaneous than the previous night, but the general lines and atmosphere of it were the same. The little girl seemed bashful about speaking into a microphone. Nevertheless, on my second trip, when she recounted what had happened for my daughter's benefit, in spite of the time that had elapsed, she told the whole story without omitting the minutest detail.
Unfortunately, when he heard the tape, my husband seemed not to be convinced. He had to go to Garabandal before he would admit that what Mary Loly claimed might be true.
Conchita was the last to have an ecstasy that night. It lasted almost two hours. Dawn had already broken when she came to. She was surprised; she fondly imagined only a "short moment" had passed.
I returned to the house where I was lodging, as if I was walking on air. The village was tinged with blue under a sky in which the stars still shone. The first rays of the rising sun were peeping over the mountains.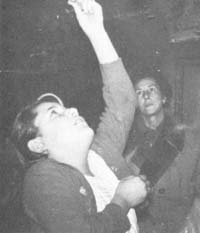 "She held the crucifix
up for the Virgin to kiss. . ."