The apparitions of
GARABANDAL
BY
F. SANCHEZ-VENTURA Y PASCUAL
---
Chapter Eight
OTHER TESTIMONIES
Page 100
---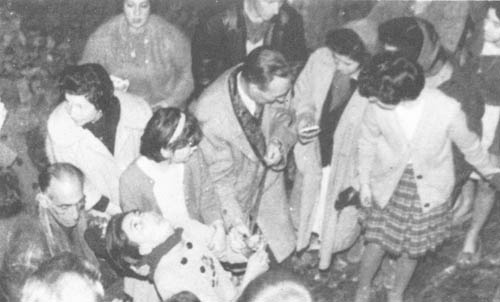 Dr. Ortiz checks Conchita's pulse during an ecstasy.
In a letter dated February 2nd, a pediatrician writes: "The point that still draws my attention is that, after seven consecutive months of marvelous ecstatic trances, the children are still, in my opinion, absolutely normal, although many people, even without seeing for themselves, maintain that it is all due to pathological causes."
In his report on February 26th, 1962, the same specialist proceeds as follows:
"What a strange disease! One which is announced days or months in advance. In childhood, mental disorders of all kinds present characteristic symptoms which are: continual lethargy, troubled sleep, aggressiveness of character and an uncontrollable outward anxiety. After eight consecutive months of this, not only do they not show any of these symptoms, but quite the opposite."
Mary-Loli
as she normally
appears in
every day life.