The apparitions of
GARABANDAL
BY
F. SANCHEZ-VENTURA Y PASCUAL
---
Chapter Two
THE STORY BEGINS
Page 47
---
other signs. In the course of the trance, however, as Conchita herself states, they did not hurt them at all. "They only left marks." *
There was no apparition on Monday 26th. The following Tuesday and Wednesday, the visions of the angel were repeated. On the Thursday and Friday, there were no visions either. The total absence of prodigies disheartened many people who had made the climb to Garabandal in the hope of seeing something briefly while they were there.
On Saturday July 1st, there was a great gathering, including many doctors, priests and people from every walk of life. The apparition occurred very early, at half-past seven in the evening. It was still daylight. The vision lasted two hours, which seemed a mere two minutes to the visionaries. The angel spoke. He told them that, next day, Sunday, the Blessed Virgin would come. As at Fatima, visionaries were prepared for their heavenly visitor by the presence of an angel. In Portugal, he said he was the Angel of Peace. At Garabandal, he was St. Michael the Archangel.
The girls asked him the meaning of the writing and the Roman numerals. He told them that the Blessed Virgin would explain it to them. She would appear under the name of Our Lady of Mount Carmel. . .
Conchita recalls that he spoke to them of many things that day. Some of the children's questions made him smile. He departed assuring them that he would return next day to accompany the Virgin.
People from all parts flocked to the village. Expectation had reached a climax.
What would the morrow bring?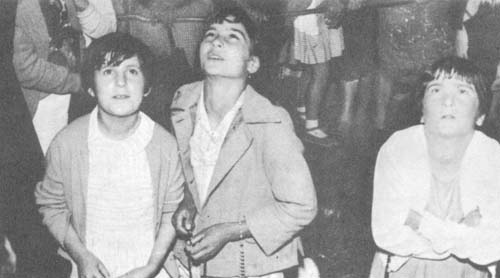 Loly, Conchita and Jacinta in ecstasy.