The apparitions of
GARABANDAL
BY
F. SANCHEZ-VENTURA Y PASCUAL
---
Chapter Two
THE STORY BEGINS
Page 45
---
quickly passing a light or some other object close in front of their eyes; this does not cause the slightest flicker of their eyelids or pupils." *
A film was taken of the visionaries of Garabandal, with the help of powerful spotlights. In a state of ecstasy, the girls came into the blinding light without so much as blinking. When the vision ended and they recovered their normal state, they immediately shut their eyes. Dazzled, they protested at the glare of the lights trained on them. Their reaction can be seen quite clearly in the film.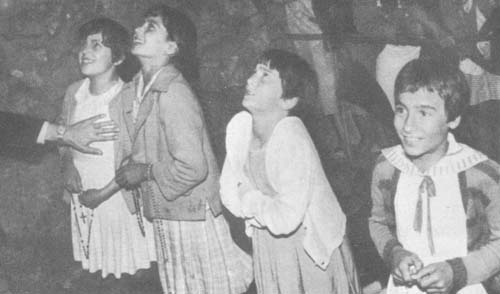 Loly, Conchita, Jacinta and Maria-Cruz in ecstasy, July 1961.
The light enveloping the visions was very strong. But, unlike ordinary light, it did not hurt the eyes. This explains the reaction of the visionaries to spotlights. On the other hand, when the ecstasy took place at night, in the pine-grove or in the streets where there were no lights, when the girls came to, they were astonished to discover that it was dark. The light enveloping the visions had been as bright as daylight.
When they left on June 22nd, the parish priest and his companions were convinced that the children's ecstatic trances were genuine. It was quite impossible for ignorant little girls eleven and twelve years of age to make such a pretense. The phenomena were beyond any natural explanation. Garabandal had an inexplicable prodigy on its hands. They did not know whether the causes were supernatural or preternatural. But those four children certainly saw and