The apparitions of
GARABANDAL
BY
F. SANCHEZ-VENTURA Y PASCUAL
---
Chapter Two
THE STORY BEGINS
Page 39
---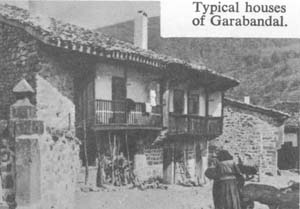 A group of youngsters decided to use a more persuasive argument. Crouching hidden among the maize-stalks in a field above the sunken lane, they started to throw stones. Jacinta, Mary Loly, Conchita and Mary Cruz protested, and begged to be left in peace to say the rosary.
The sky was overcast, and a strong wind was blowing. Perhaps the behavior of the rascals in the maize field was the reason why there was no apparition that afternoon. A place that is in the process of being stoned is hardly the most auspicious spot for the enormous grace of a heavenly vision.
Night fell. Accompanied by the jeers of everyone about them, they went to the church to say a decade to the Blessed Sacrament. The schoolmistress met them on the way.
"Have you been up the lane?"
"Yes, we have. But we didn't see anything."
"Don't worry," the teacher reassured them. The children's disappointment at that moment only convinced her the more of the vision of the previous night. "Don't worry, He'll come tomorrow."
"Why didn't he come today?" they asked.
"Most likely because it has been clouded over."
It was a quarter past six when they entered the church. Afterwards they went home.
"Well? Did you see the angel?" their families asked.
"No, we didn't see anyone today."
They settled down to do their homework, had supper and went to bed. "It must have been a quarter to ten," Conchita recalls, "when I started to say my prayers. And then, we each heard a voice that said: 'Do not worry. You will see me again'."
The phenomenon happened to all four girls at the same time, each in her respective home. Frightened at this strange occurrence, "we went on fervently saying our prayers until we fell asleep." *