The apparitions of
GARABANDAL
BY
F. SANCHEZ-VENTURA Y PASCUAL
---
Chapter One
REASONED ARGUMENTS TO FAN THE FLAMES OF OUR FAITH
Page 17
---
calamity for the regions in question, since walnuts were one of the mainstays of the local economy.
"The grapes will rot ..." A plague began to attack grapes at this period, as a result of the importation of American vines; it is a century since phylloxera and mildew first began to ravage vineyards.
The punishments announced by Our Blessed Mother as proof of the authenticity of her message were fully confirmed. The apparition took place in 1846, and the newspaper reports that we have mentioned begin with the year 1847 and cover the period ending in 1852. So, the forecasts began to come true immediately.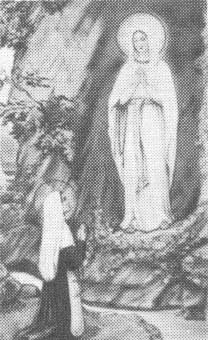 The Immaculate Conception (1858)
14.—Between February 11th and July 16th, 1858, the Virgin appeared eighteen times to Bernadette Soubirous, a fourteen year old girl from Lourdes.
It is a well-known story. The vision gave her the same message as usual, and insisted that people should do penance. But, at the same time, she acknowledged the proclamation by the Church on December 8th, 1854, of the first glory of Mary, her Immaculate Conception.
We have already seen the origin of the miraculous spring at Lourdes, when Bernadette scooped out some earth at the vision's bidding.
The Cafe France in Lourdes was the meeting place of the intelligentsia who were opposed to such mystical phenomena and everything else to do with religion. On behalf of science, they appointed Dr. Dozous to put an end to this superstitious tomfoolery.